BASF mit Gewinnwarnung – Aktie auf tiefstem Stand seit Anfang 2016
BASF hat eine eh schon rückläufige Gewinnerwartung nun erneut nach unten korrigiert. Das zieht den Aktienkurs natürlich in den Keller. Die BASF-Aktie notiert heute früh mit -4,14%. Sie fällt jetzt mit 58,18 Euro auf den tiefsten Stand seit Anfang 2016. Wie der Chart sehr gut zeigt, hängt man jetzt genau auf einem wichtigen Unterstützungsniveau von damals. Hält es nicht, sind aus charttechnischer Sicht tiefere Kurse möglich.
Hier BASF im Wortlaut:
Auf Grundlage der Ergebnisdaten für November 2018 geht BASF nunmehr von einem deutlichen Rückgang des Ergebnisses der Betriebstätigkeit (EBIT) vor Sondereinflüssen im Geschäftsjahr 2018 von 15 % bis 20 % gegenüber dem Vorjahreswert aus (EBIT vor Sondereinflüssen 2017: 7.645 Millionen €). Bisher wurde ein leichter Rückgang von bis zu 10 % gegenüber dem Vorjahreswert prognostiziert. Beim EBIT der BASF-Gruppe erwartet das Unternehmen unverändert einen deutlichen Rückgang und beim Umsatz weiterhin einen leichten Anstieg von bis zu 5 %.
Zu dem deutlichen Rückgang des EBIT vor Sondereinflüssen gegenüber dem Vorjahreswert trägt vor allem das Segment Chemicals bei. Hier sind insbesondere die Isocyanatpreise stärker gesunken und die Crackermargen geringer als erwartet. Darüber hinaus ergeben sich im 4. Quartal 2018 in dieser Größenordnung bisher nicht prognostizierte Ergebnisbelastungen von voraussichtlich bis zu 200 Millionen € durch den niedrigen Wasserstand des Rheins. Im 3. Quartal konnten die daraus resultierenden Ergebnisbelastungen auf rund 50 Millionen € begrenzt werden.
Daneben schwächte sich das BASF-Geschäft mit der Automobilindustrie seit dem 3. Quartal 2018 weiter ab, insbesondere die Nachfrage von Kunden in China verlangsamte sich deutlich. Der Handelskonflikt zwischen den USA und China trug zu dieser Verlangsamung bei.
Wells Fargo-Quartalszahlen: Rückläufiges Geschäft, Gewinnerwartung übertroffen
Soeben wurden Wells Fargo-Quartalszahlen veröffentlicht. Hier die wichtigsten Kennzahlen.
Der Umsatz liegt bei 20,98 Milliarden Dollar (Vorjahresquartal 22,05/Erwartungen 21,4).
Der Gewinn liegt bei 1,21 Dollar pro Aktie (Vorjahresquartal 1,16/Erwartungen 1,17).
Einlagen sinken um 3%.
Kredite sinken um 1%.
Die Aktie notiert vorbörslich mit -0,17%.
Wells Fargo hat nach diversen Skandalen immer noch Probleme. Der Transformationsprozes laufe gut, so der CEO. Zitat:
Chief Executive Officer Tim Sloan said, "I'm proud of the transformational changes we made at Wells Fargo during 2018 including significant progress on our six goals. We have made meaningful improvements to how we manage risk across the company, particularly operational and compliance risk. We improved customer service which resulted in both 'Customer Loyalty' and 'Overall Satisfaction with Most Recent Visit' branch survey scores reaching a 24-month high in December. Our voluntary team member attrition in 2018 improved to its lowest level in six years reflecting our efforts to make Wells Fargo a better place to work, and we continue to attract impressive leaders from outside the company. We launched many customer-focused innovations including our online mortgage application, Control TowerSM, Pay with Wells Fargo, and our new Propel® Card. Our commitment to building stronger communities was demonstrated by exceeding our target of donating $400 million to communities across the U.S., and a recent example was our Holiday Food Bank program which provided over 50 million meals during the holidays. Our focus on delivering long-term shareholder value included meeting our 2018 expense target and returning a record $25.8 billion to shareholders in 2018, up 78% from 2017. I want to thank our team members for their commitment to making Wells Fargo a better bank in 2018. I'm confident that we'll continue to make Wells Fargo even better in 2019."

Eine historische Wells Fargo-Postkutsche. Foto: Claudia Brauer CC BY 2.0
JP Morgan-Quartalszahlen: Umsatz und Gewinn schwach – Ende einer Strecke von 15 Quartalen
Soeben wurden JP Morgan-Quartalszahlen veröffentlicht. Hier die wichtigsten Kennzahlen.
Der Umsatz liegt bei 26,8 Milliarden Dollar (Vorjahresquartal 25,45/Erwartungen 27).
Umsatz bei "Anleihen, Devisen und Rohstoffen" 1,86 Milliarden Dollar (erwartet 2,3).
Der Gewinn liegt bei 1,98 Dollar pro Aktie (Vorjahresquartal 1,76 /Erwartungen 2,20).
JPM-Chef Jamie Dimon hatte in den letzten 15 Quartalen immer die Gewinnerwartungen der Analysten übertroffen – bis heute.
Die Aktie notiert vorbörslich mit -1,9%.
Laut Jamie Dimon läuft alles bestens. Für 2019 sollten sich laut Dimon die politischen Anführer der USA zusammensetzen und Lösungen für offene Probleme finden, damit die gut laufende Wirtschaft weiter unterstützt werde. Zitat:
Jamie Dimon, Chairman and CEO, commented on the financial results: "2018 was another strong year for JPMorgan Chase, with the Firm generating record revenue and net income, even without the impact of tax reform. Each line of business grew revenue and net income for the year, while continuing to make significant investments in products, people and technology, demonstrating the power of the platform. We grew core loans 7%, in-line with our expectations, while maintaining credit discipline and a fortress balance sheet with significant capital and liquidity."
Dimon added: "Our customer-centric business model has benefited from a healthy and engaged U.S. consumer that is spending, saving and investing. We continue to outpace the industry in consumer deposit growth, albeit slower, and client investment assets increased for the year on record net new money flows. Credit and debit sales volume, as well as merchant processing volume, were all up double digits. Despite a challenging quarter, we grew Markets revenue in the Investment Bank for the year with record performance in Equities and solid performance in Fixed Income. Investment Banking fees were a record for the year, driven by strength in both CIB and Commercial Banking. Asset & Wealth Management delivered strong banking results and continued its string of annual net long-term inflows, even as volatility and lower market levels impacted fourth quarter results."
Dimon concluded: "In 2018 we accelerated investments in products, services and technology to help our employees, customers and communities. In the fourth quarter we opened Chase branches in new states for the first time in nearly a decade. While it is early days, we're seeing terrific results so far – and this is only the start as we continue to open branches in several new markets in the months and years to come. Our AdvancingCities initiative is supporting job and wage growth in communities that need capital the most. We extended credit and raised capital of $2.5 trillion for U.S. consumers, businesses and institutional clients. As we head into 2019, we urge our country's leaders to strike a collaborative, constructive tone, which would reinforce already-strong consumer and business sentiment. Businesses, government and communities need to work together to solve problems and help strengthen the economy for the benefit of everyone."

Jamie Dimon. Foto: Steve Jurvetson Creative Commons Attribution 2.0
Quartalszahlen: Die Saison beginnt, hier die Liste mit den wichtigen Terminen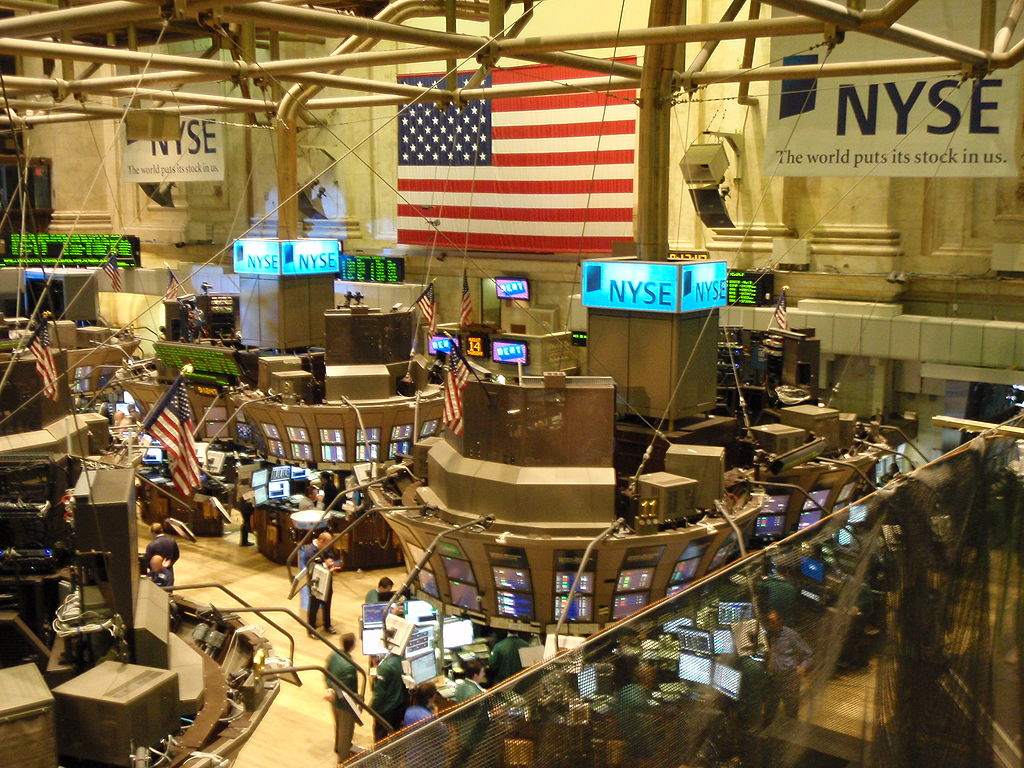 Die Unternehmen beginnen nun nach und nach ihre Quartalszahlen für das 4. Quartal 2018 zu melden. Hier listen wir wichtige und interessante Unternehmen aus den USA und Deutschland auf, die Sie interessieren könnten. An diesen Tagen melden sie ihre Quartalszahlen.
JP Morgan 15. Januar Mittags 13 Uhr
Wells Fargo 15. Januar Mittags 14 Uhr
Bank of America 16. Januar
Goldman Sachs 16. Januar
Netflix 17. Januar
Caterpillar 28. Januar
Apple 29. Januar
SAP 29. Januar
Siemens 30. Januar
Boeing 30. Januar
Facebook 30. Januar
Amazon 30. Januar
General Electric 31. Januar
Deutsche Bank 1. Februar
Exxon 1. Februar
Google (Alphabet) 4. Februar
Tesla 5. Februar (Schätzung)
Snap Inc 5. Februar
Daimler 6. Februar
Twitter 7. Februar
Thyssenkrupp 12. Februar
Commerzbank 14. Februar
Allianz 15. Februar
Walmart 19. Februar
Deutsche Telekom 21. Februar
BASF 26. Februar
Bayer 27. Februar
Zalando 28. Februar
Deutsche Post 7. März
Volkswagen 12. März
e.on 13. März
Lufthansa 14. März
Wirecard 4. April
Rocket Internet 4. April
Adidas noch unklar